OV-10 FOR SALE
OV-10D+ BRONCO SN155474

TAKEOFF DISTANCE
1,030 ft.
Fully Restored OV-10D+ Bronco
Currently flying out of Chino, California (KCNO), WHITE LIGHTNING is a beautifully restored warbird packing a load of history, weaponry and adrenaline in a two-pilot, tandem seating fully-aerobatic twin turboprop. 
1968 NORTH AMERICAN ROCKWELL OV-10D+ BRONCO S/N 155474 is proven, ready for sale, and could be yours.
Committed to the restoration of these aircraft to certified safe, flyable and enjoyable condition, OV-10 Squadron in Chino, California (KCNO) is passionate about rebuilding and restoring these amazing aircraft for your personal use. We're also committed to sharing the history with others with our passion.
This aircraft has been fully restored and is currently flying. LEARN MORE about White Lightning's history and restoration process. 
Contact us if you're interested in owning your piece of aviation history.
ALL OV-10 D+ BRONCOS FOR SALE
OV-10D+
Armaments
Guns: 4 × 7.62×51mm M60C machine guns

Hardpoints: 5 fuselage and 2 underwing and provisions to carry combinations of:
Rockets: 7- or 19-tube launchers for 2.75" FFARs or 2- or 4-tube launchers for 5" FFARs
Missiles: AIM-9 Sidewinder (Wing pylons only)
Bombs: up to 500 lb
Other: SUU-11/A or Mk 4 Mod 0 gun pods
Behind the Cockpit
Great Visibility
Removable second seat
Ejection Seats (disarmed)

Length:

44 ft 0 in

Wingspan:

40 ft 0 in

Height:

15 ft 2 in
Wing area: 290.95 ft²
Tailplane Span: 14 ft 7 in
Fuel / Capacity: 246 gallons / 1,660 lbs JET A
COCKPIT
Crew Seats: 2
Passengers: 4 Paratroopers
Pressurization: Negative
WEIGHTS
Empty weight: 8,050 lbs
Basic Operating Weight: 10,000 lbs
Useful Load: 6,500 lbs
Maximum Payload: 2,500 lbs
Max. takeoff Weight: 14,426 lbs
Max. Landing Weight: 14,500 lbs
Max. Zero Fuel Weight: 10,980
BAGGAGE
Capacity: 100 cases of beer
Manufacturer: Garrett
Model: (2) T76-G-420/412 turboprop
Power Rating: 1,040 shp each
Propellers: 4 Blade Hartzell

ORDINANCE LOADOUT (Typical)
MK 81 GP Bomb
MK 82 GP Bomb
MK 83 GP Bomb
MK 77 Fire Bomb
CBU-55 FAE Bomb
Sidewinder Missile
2.75 Rockets
5.0 Rockets
Fuel Tanks

PMBR—Practice Bombs
PMBR—Flares
PMBR—Smoke
PMBR—ADSID-III
SUU-25F/A Flares
SUU-44/A Flares
SUU-44
Captive Sidewinder
Telemetry Pod
GPU-2 Gun Pod
Guns: 4 x 7.62 x 51mm M60C Machine GUns
Countermeasures:
FLIR – AN/ASS-37 (avail.)
IR Suppression Exhaust
ALQ-144 IR (avail.)
ALE-39 w/chaff & flares (avail.)
Hardpoints: 5 fuselage and 2 underwing and provisions to carry combinations of:

Rockets:  7- or 19-tube launchers for 2.75″ FFARs or 2- or 4-tube launchers for 5″ FFARs
Missiles: AIM-9 Sidewinder (Wing pylons only)
Bombs: up to 500 lb
Other: SUU-11/A or Mk 4 Mod 0 gun pods
Night Observation Surveillance (NOS)

Strike  Reconnaissance (TAC)

Forward Air Control (FAC)

Cargo & Paratroop Transport
PERFORMANCE
Maximum Speed: 228 ktas
Cruise Speed: 180 ktas
Maximum Range: 1080 nm
Takeoff Distance: 1030 ft @ 10,000 lbs
Landing Distance: 980 ft @ 10,000 lbs
Max. Operating Altitude: 33,000 ft
Max. Climb Rate: 4,000 fpm
AVIONICS
Manufacturer: Garmin
Equipment: GTN 750, GTR 226, GTX 326, ADS-B equipped
Backed by Veterans
With a team of committed aeronautical engineers, A&P mechanics, and several aviation history experts, the OV-10D+ is able to fly again.
This Time, It's Personal
Flying a restored warbird is an honor so few ever experience.
Flying an OV-10 is an experience you will honor for all time. 
With Garmin GTN 750 Avionics, the OV-10D+ brings moving maps and ADS-B to the skies. Because this time, you really do want to be seen.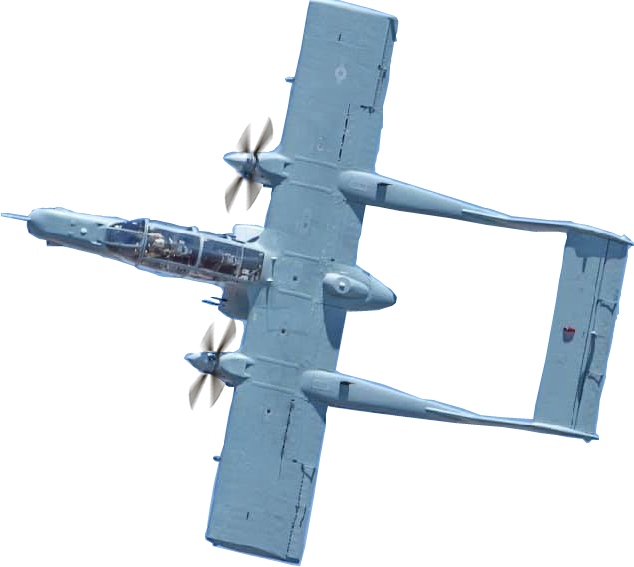 SN 155474 SERVICE RECORD:
HONORABLE DISCHARGE
REPUTABLE RESTORATION
Bronco 155474 fought hard against the NVA from 68-73.  Her nation called her again in 1991, flying an epic 10,000-mile ferry flight to Kuwait where she attacked Iraqi armor and called in the 16-inch gunfire from the USS Wisconsin. Then in 1999, pulled from retirement and refitted for a new war, the War on Drugs. 474 was a Cocaine Crop Duster carrying a 400-gallon herbicide tank and utilized her armor plating and heavy airframe to battle small arms fire while performing low-level aerial application in the jungles of Colombia.
2018- Fifty years later she is tired. Her bushings worn, wires cut, bullet holes hastily patched, corrosion sets in.  As her paint fades we set out on a journey this year to bring her back into service. As our Vietnam Veterans age too, they deserve to share the story of the close air support on the Mekong Delta. Patrols around The Parrots Beak, assaults on the Plain of Reeds, the heavy-hitting punches of 5″ Zuni Rockets clearing the way for Navy SEALs who are surrounded.
The Bronco in Vietnam was there for downed airmen. Troubled Infantry, reassured by the rapid response Black Ponies. Outgunned riverboats. Helicopter Escorts, and spotting targets for the heavy bombers and fast-moving jets.
TT 10500, 120HR SM IRAN

LE TTSN 3397 TSO 763

RH TTSN 1825 300 SMOH
US Marine Corps
The OV-10 was first acquired by the U.S. Marine Corps. Each of the Marine Corps' two observation squadrons (designated VMO) had 18 aircraft – nine OV-10As and nine OV-10Ds night observation aircraft. A Marine Air Reserve observation squadron was also established.
US Air Force
The USAF acquired the Bronco primarily as a FAC aircraft. The first combat USAF OV-10As arrived in Vietnam on 31 July 1968 as part of "Operation Combat Bronco", an operational testing and evaluation of the aircraft.
US Navy
The U.S. Navy formed Light Attack Squadron Four (VAL-4), the "Black Ponies", on 3 January 1969, and operated in Vietnam from April 1969 through April 1972. The Navy used the Bronco OV-10A as
RESTORATION NEWS
FLY WITH OV-10 SQUADRON